¿BUSCAS ALGO CONCRETO?
Llámanos al teléfono:  +34.675.475.376
O por email ó formulario, aquí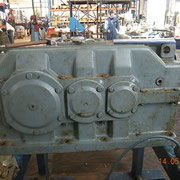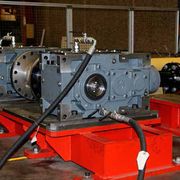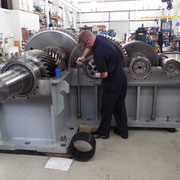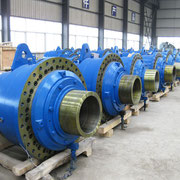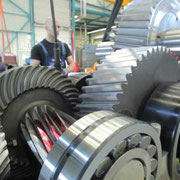 Torque (T2 nominal): 1,000 up to 800,000 Nm

Transmission Ratio: 1.25 up to 710 iN

Power Rating: up to 4,400 kW

 


POSIRED 2 Reductores de ejes paralelos y en ángulo recto (ortogonal)
PIV Drives covers the whole spectrum of power transmission solutions for industrial applications. Our drive solutions provide for motion in nearly all markets: from the environmental and recycling technology to the chemical industry as well as in the paper and printing sector. The POSIRED 2 range, with an high degree of standardisation and consistent modularity, ensures flexibility and short delivery times. A large number of standard options with a great variety of versions guarantee optimal adaptation in almost all areas of mechanical and system construction. An extensive range of accessories increases the adaptation capacity of this gear to various requirements. As a standard, fans, cooling coil, external oil cooler, heating rods, torque supports, engine consoles, sub-constructions and operation monitoring systems are available.

Technical Data
Torque (T2 nominal): 1,000 up to 800,000 Nm
Transmission Ratio: 1.25 up to 710 iN
Power Rating: up to 4,400 kW




Torque (T2 nominal): 30 up to 8,500 Nm

Transmission Ratio: 0.5 up to 5 iN



 


POSICROSS LN Unidades ortogonales (Reenvíos) para aplicaciones de precisión
These bevel gears are characterised by a sturdy, non-torsional and space-saving housing. Their wheelsets of alloyed case hardening steel have a Klingelnberg-Cyclo-Palloid gearing and are case hardened and lapped in pairs.The arrangement of the screw fastening faces enables a wide choice of fitting positions.On request, contact-less shaft sealing variants as good as the connection for an oil circulating lubrication may be provided. Reinforced shafts are also available.Every precision-application in the sector of printing, paper, textile and tool-machines draw advantages in using this kind of gears.




Torque (T2 nominal) Nm: 3,000 up to 160,000

Transmission Ratio: 4 up to 160 iN

Axial force: F = 50 up to 2,000 kN



 


POSIREX Reductores para extrusoras de un husillo
This series of gearboxes with attached or integrated thrust bearing can be supplied as bevel or helical gear. Quiet operation and strong design are key features. Mounting position horizontal or vertical, splash lubrication and cooling coil with or without injection lubrication are possible options. Their modular design is based on the POSIRED range, plus appropriate thrust bearing-parts which are readily available.




Screw centre distance: a = 15 up to 200 mm

Input speed up to 1,800 rpm

Torque factor: df = 35 N/mm2

Power: up to 5,500 kW



 


POSITWIN GL Reductores para extrusoras con doble husillo salida gemela
Double shaft extruder gears have been built by PIV Drives since 1984 for a variety of applications in the plastics and food industries and have been put into operation around the world to our customers' complete satisfaction. This extremely compact and appealing design means that we are able to provide a modern, high-power gear in small installation spaces.

The gears are case hardened and ground and optimised with a profile correction according to the load, which consists of bending and torsion. A very good noise behaviour is achieved through a high contact ratio.

The axial forces which occur during extrusion from the process part are safely absorbed in the gear with tandem bearings and self-aligning roller thrust bearings.




Rack clamping force: up to 450 kN

Rack speed > 2,000 mm/s



 


POSIRACK Reductor para máquinas de moldeo por inyección
PIV Drives has developed this range of rack-and-pinion drives for closing the mould of injection moulding machines. This kind of drives are quiet running spur gearboxes presenting a compact construction with an integrated motor.

They have a double toothed rack as output.To achieve high performance it is important to realise an almost perfect load distribution on the rack: case hardened and grounded gear wheels are the base for these high performance drives with highest accelerating and decelerating torque and as very good noise behaviour.




Torque (T2 nominal): 245,000 up to 1,000,000 Nm

Transmission Ratio: 20 up to 2,240 iN



 


POSITORQUE Reductor planetario industrial para grandes pares de salida
This planetary gear series (5 sizes) is intended for industrial application in the upper output torque range, up to 1,000,000 Nm. They are backed by a long experience in the construction of planetary units for variable speed drives.

Their most important features are:
- Compact design and high power density. The optimisation of the number of planets for each planet stage leads to an excellent torque / weight ratio.
- The modular structural design of the gear case leads to a universal range of uses. The majority of designs needed can be covered by standard models: in line and right angle versions.
- The housings are designed for flange or shaft mounting or foot design
- The output shafts are supplied as male or hollow shafts.




Torque (T2 nominal): 5,000 up to 67,000

Transmission Ratio: up to 2,000 iN



 


Reductores ultra-compactos.

Reductor mixto ejes paralelos-epicicloidal planetario

POSIPLAN New range of ultra-compact planetary and bevel helical gearboxes for industrial applications.

These new gear reducers, which are protected by a specific patent, feature a combination of planetary and helical/bevel helical gears that takes advantage of the strengths of each technology: compact size, reliability and easy maintenance.

This new series of lighter, more compact gear reducers surpass traditional solutions for planetary and bevel helical gear reducers and also ensure shorter production times and lower production costs.

The design of these ultra-compact gear units is based upon precise analyses using FEM (Finite Elements Method) techniques applied to 3D models, which means that performance, in terms of duration and silence, was optimized already in the virtual prototype phase.

Advanced engineering techniques, long experience and the use of high quality parts from Brevini Riduttori and PIV Drives led to the creation of a product that ensures high performance over time, a fact that has been confirmed by tests that simulate real operating conditions.

Main characteristics of the new product range:

- 10 harmonically developed sizes, from 3000 Nm to 27,000 Nm of nominal torque, 5 in the planetary helical version and 5 in the bevel planetary helical version. The range will be expanded to include 8 more sizes for output torques of up to 67,000 Nm.
- In the planetary helical version, up to 4 reduction stages and transmission ratios of up to i = 2000.
- In the bevel planetary helical version, up to 4 reduction stages and transmission ratios of up to i = 1100.
- Special seals (labyrinth seals or double seals with separate grease-filled chamber) that protect against lubricant leakage and contamination.
- Output hollow shafts: cylindrical with keyway, cylindrical hollow shaft for shrink disc, and splined shaft.
- Input versions with adaptors for IEC, NEMA and hydraulic motors, flexible and fluid couplings, clutches and torque limiters, and belt couplings.
- Accessories such as torque arms, shrink discs, backstops and brakes, oil filtering and cooling systems.